Capital Improvements at the Park
Funding the "California Dream"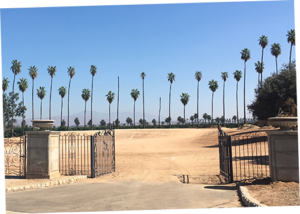 The California Citrus State Historic Park opened in 1993 with a vision of being a living outdoor historical museum that tells the far-reaching story of the citrus industry – the people, business, economic, and cultural impacts that transformed California in its early years and continues to play an important role in agriculture as well as other industries locally, nationally and globally.

To properly showcase the extensive citrus history, the General Plan for the Park envisioned having several facilities, including a workers' camp bunkhouse, a packing house, the Western Engine pump facility, residences of the period and a bridge and pathway to help connect all these features.   
Some of the citrus history that visitors would learn about include:
How the citrus industry helped create the image of the "California Dream"

The voices of the people who built the citrus industry and transformed California's second economy from commercial to agricultural.

The crucial role of migrants and immigrants, such as Native Americans, Chinese, Japanese, Korean, and Mexican laborers and the cultural impact that continues to impact our communities today.

The importance of the California soil, climate and water to citrus production.

The story of the management of water, both historically and at present, to make citrus production possible. 

The impact that the industrial revolution, labor revolution, science and technology had on the rise of the citrus industry.

The role of marketing in the growth of the industry.

Citrus' rapid decline as urbanization increased.

The threat to California citrus by the Asian Citrus Psyllid and the role of UC Riverside to save citrus from the deadly disease carried by this insect.
How You Can Help:
We are seeking a broad coalition of regional support to secure funding for these capital improvements.  Please join our effort by signing on as a supporter of this campaign at the following link, or contact us at (951) 333-6786. 
Park Hours
April – September
Monday through Friday
8:00AM to 5:00PM
Saturday and Sunday
8:00AM to 7:00PM
October – March
8:00AM to 5:00PM Daily
Visitor Center Hours
Friday, Saturday and Sunday
10:00AM to 4:00PM